玩厭西式麵包終於玩到中式包點了!

茶樓點心對於我而言絕不陌生,家中兩代皆為廚,小時候星期天的中午節目必為在自家茶樓飲茶。奶皇包一直都是我的最愛,小時候的花名其一便是由此而來。奶皇包在溫哥華並不常見,久而久之就改吃叉燒包了。不過每次回港的必吃清單上奶皇包絕對是榜上有名的。

因為第一次做中包不想弄太複雜的,所以就選了麻蓉包和菜肉包。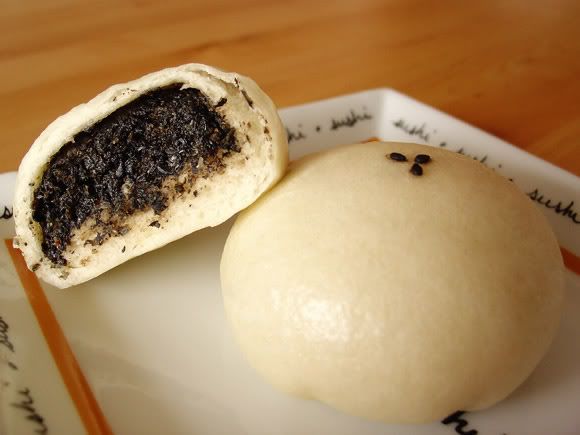 麻蓉包



: 麵包皮 :
低筋麵粉 // 100g
暖無糖豆漿 (可用水代替) // 50g
砂糖 // 20g
泡打粉 // 3g
乾酵母 // 1.5g
液體菜油 // 10g

1. 酵母加2g糖及10g豆漿攪拌放至5分鐘。

2. 麵粉灑於檯上圍成圓形,中間空心,放入18g砂糖,泡打粉,40g豆漿,菜油和酵母水,用手搓成麵糰,其間可加水/粉直至麵糰柔度適中。

3. 麵糰放在已掃油的盆中用保鮮紙包著,座於熱水盆中發酵約15-20分鐘,取出作排氣 (麵糰用木棍壓成長條形,然後卷起成瑞士卷型)。

4. 麵糰分成10等份,把每個麵糰再作排氣,完成後用保鮮紙蓋上放在檯上淨止5分鐘。

5. 麵糰搓圓壓平包餡(邊位較薄,中心位要厚),包餡口向下然後墊上蒸包紙放在蒸籠內。

6. 待蒸鍋中的水滾後熄火,放入奶皇包焗10分鐘作最後發酵,然後用大火蒸10-15分鐘即成。


: 菜肉餡 :
碎豬肉 // 1/2 cup
高麗菜/白菜/紹菜 (切絲) // 1/4 cup
冬菇 (切粒) // 2 tbsp
蓮藕/馬蹄/竹筍 (可不加,隨個人喜好) (切粒) // 2 tbsp
鹽 // 1/4 tbsp
糖 // 1 tbsp
胡椒粉 // 少許
美極 // 1/2 tbsp
麻油 // 少許
玫瑰露/米酒 // 少許
生粉 // 少許

1. 冬菇先洗凈浸發好,用鹽, 糖, 麻油, 玫瑰露, 蔥, 薑和少許水(煮過的)蒸10分鐘。切粒備用。

2. 所有材料伴勻即可。事先炒過會香口一點。

**份量隨個人喜好,我是雪櫃有什麼就加什麼的。


: 麻蓉餡 :
黑芝麻 // 4 tbsp
糖粉 // 5 tbsp
奶粉 // 1 tsp
花生醬 // 2 tbsp

大包份量: 請參考冰皮月餅一文 // http://yujai.blogspot.com/2007/09/snowy-mooncakes.html




Black Sesame Bun



: Bread dough :
Cake flour // 100g
Warm soymilk (or warm water) // 50g
Sugar // 20g
Baking soda // 3g
Dry yeast // 1.5g
Vegetable oil // 10g

1. Combine dry yeast, 2g of sugar and 10g of soymilk for 5 minutes.

2. Place the flour on the counter, make a "well" or "pocket" in the center of the flour. Pour 18g of sugar, baking powder, 40g of soymilk, vegetable oil and the yeast mixture. Mix the dough with your hands. Add in water or flour to adjust the dough.

3. Place the dough in the greased bowl, cover it with plastic wrap. Place the bowl on top of hot water for 15-20 minutes. Punch down the dough out and roll it up like a swiss cake roll.

4. Divide the dough into 10 pieces, roll up each dough again and cover with plastic wrap for 5 minutes.

5. Roll each dough into flat round piece (thicker center with thinner edges), spoon some filling and taper the ends. Place the ends towards the steam insert of the double boiler.

6. Turn off the heat after water boiled in the double boiler, place in the insert let the dough rising for 10 minutes, steam the buns for 10-15 minutes.


: Veggie & meat filling :
Ground pork // 1/2 cup
Cabbage or any kind of vegetables (strips) // 1/4 cup
Dried Chinese mushrooms (dice) // 2 tbsp
Lotus root/Water chestnut/Bamoo shoot (dice) // 2 tbsp
Salt // 1/4 tbsp
Sugar // 1 tbsp
White pepper // some
Maggi sauce // 1/2 tbsp
Sesame oil // some
Cooking wine // some
Cornstarch // some

1. Wash the mushroom and soap in water until soft (around 3 hours), cut into dice. Place in a small bowl, combine with salt, sugar, sesame oil, cooking wine, green onion and some boiled water and steam for 10 minutes. Set aside.

2. Mix all the ingredients together.


: Black sesame filling :
Black sesame seeds // 5 tbsp
Powder sugar // 6 tbsp
Dry powdered milk // 1 tsp
Peanut butter // 2~3 tbsp

1. Toast sesame seeds very lightly (be careful, black sesame becomes very bitter if overtoasted) until you can break them by finger.

2. Mesh the roasted sesame using the roller pin, add in sugar and dry powdered milk.

3. Mix the peanut butter with some water (just a little bit) and mix with the sesame mixture. Add in more water or peanut butter as desired - can be a gritty paste or a smooth filling.



來點好玩的...魚仔回港的必吃清單!

奶皇包
糖蔥薄餅
缽仔糕(粉嶺火車站出面某圍村阿婆賣的)
魚爸牌西檸雞
魚爸牌燕窩羹
魚爸牌春卷
魚爸牌脆皮雞
魚爸牌乾燒蝦碌
齋腸粉
魷魚鬚
桂花拉糕(小南國)
牛脷酥
雞蛋仔(近期比較好吃的只有沙田第一城那檔)
馬拉糕
清心丸馬蹄爽
燒鵝瀨...等等