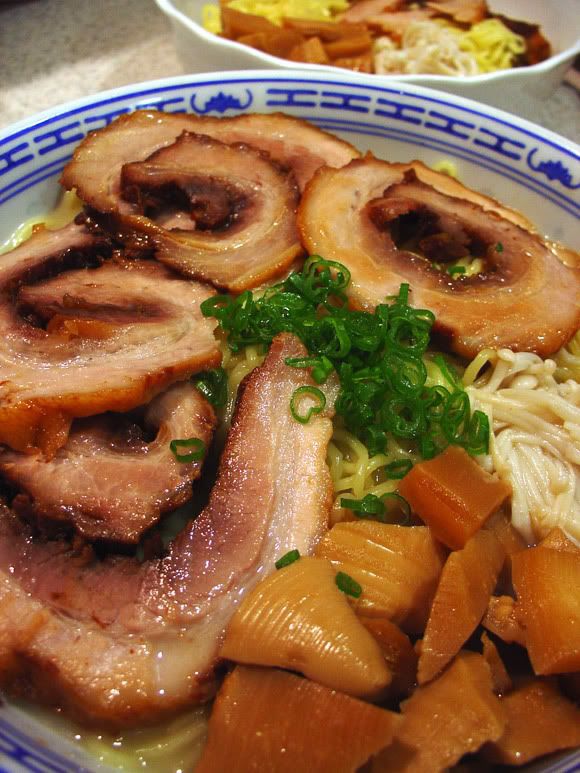 Everytime I saw Tonkotsu ramen i think of the one that we had in Harajuku. The soup was like glue. No, I am not kidding! The texture was totally glue-like! I didn't like it but T loved it. He liked it so much that we actually visited twice over our 5 days of Tokyo trip, and of course, evertime he ordered 2 ramen XD

For me, the best ramen I ever had was in Kyoto. I forgot the store name but it was located in ramen alley (京都車站拉麵小路) at the Kyoto train station. It wasn't really about the ramen or the soup, but the bbq pork!

The bbq pork were thinly sliced and the "fat" melt in my mouth, yes, again, no kidding, it really melt! I usually only eat the meat but not the fat, but that was sooooo good that I ate them together. It was really remarkable. And so this became my unforgettable ramen experience.

Anyways, Kintaro ramen is probably the best I found in Vancouver (close to the quality in Japan but not exactly there). Amiee, jk, Gray...etc and I had visited this ramen store over million times when we were in VFS (right, Amiee?) T was soooooo happy when I told him Kintaro opened a second store in Richmond. Unfortunately it was closed after an year. (I don't get this either, how could this happen!?) Since then we haven't had any good ramen.

Yesterday I suddenly had the idea to make ramen myself (mainly becuase I am in the mood of making something special this week). The soup had been boiled over high heat for 5 hours and did turned out milky. The taste was rich but still different from ramen stock. The stock should have been richer. We both thought it is still very chinese soup like. Maybe I should had Konbu next time. The チャーシュー (chashu, japanese style bbq pork) made me happy! It tasted exactly like the one we had in ramen place!




Once again, I will share the recipe once it got perfect :)